FINALLY, THE FULL FLAVOR OF SALT
WITHOUT THE HARMFUL SIDE EFFECTS
If you love salt but hate what it does to your health, try PANSALT®!
PANSALT® is the healthier, low-sodium mineral salt with Iodine that gives food the same savory flavor as common salt without the harmful effects.
PANSALT® is rich in the essential minerals Magnesium and Potassium – unlike common salt that only has Sodium Chloride, the primary cause of high blood pressure that can lead to heart attacks, strokes and kidney damage in 22 out of 100 Filipinos. PANSALT® has further been found to improve the therapeutic effects of treatment drugs for hypertension.
PANSALT® has the taste, look and texture of common salt. Use it the way you use salt – in the kitchen and on the table – and decrease your sodium intake and your hypertension risk by half!
So if you don't have the heart to give up on salt… choose PANSALT®!
Imported and exclusively distributed by Accord International, Inc., PANSALT®, is now available at select local outlets.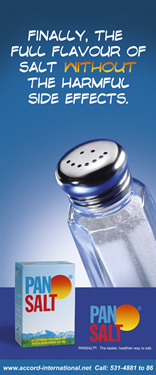 Keep a Little PANSALT® in Your Pocket

ABS-CBN Global
Philippine News
08/13/08

Yehey Lifestyle Food
News Bits
08/13/08

PANSALT® Now in Sachets!
Watching your sodium intake should be easy with the new PANSALT 50g pack (contains 50 x 1g sachet)!
The more handy PANSALT pack is now available in the following outlets:
- Cash & Carry
- Cherry Foodarama Antipolo, Congressional, Shaw
- Eunilaine Foodmart, Kalayaan Avenue, QC.
- Landmark Makati, Trinoma
- Makati Supermart Alabang
- Oro Rama Supermarket (Cagayan de Oro City)
- Pioneer Centre Supermart
- Royal Subic Duty Free
- Robinsons Supermarket (Ermita, Galleria, Metroeast, Novaliches)
- Rustan's
- Shoppersville Katipunan
- Shopwise
- Tropical Hut Foodmart BF Homes Parañaque, Panay, Taytay
- Unimart Supermarket

Watch for the new PANSALT 50g pack in more supermarkets and drugstores soon!
Suggested retail price: P80.50

Why is PANSALT® good for you?

Because with PANSALT®,

for less than P3.00 a day...

You cut your risk of acquiring hypertension to half. This means you also reduce your predisposition to heart attacks, strokes and kidney problems.
You can still enjoy the same savory flavor of food without worrying about raised blood pressure levels even when you already are hypertensive.
You give yourself, your family and your loved ones the gift of peace of mind and good health.

Of course, to be truly healthy we must also watch what we eat, do regular exercise and get enough rest everyday. Don't let yourself become part of the statistics on people acquiring hypertension. NOW's the time to make a shift to PANSALT® -- the most affordable low sodium mineral salt that's good for your health.
STAY SEXY WITH PANSALT®

T

here is no short cut when it comes to health and fitness. While consumers have a vast choice when it comes to weight-loss pills, trendy diets, fat reduction procedures and exercise programs, the tried and tested formula for staying fit still requires a major change in lifestyle. This means having a good diet and proper exercise.
Read More »
CHEF HANS NEUKOM HAILS THE HEALTHY SALT

A

fter a little over four years of living in the Philippines, Swiss-German chef Hans Neukom has formed two interesting notions on Filipino food. First, Filipinos generally go for the strong pull between salty and sweet. Second, Filipino food's identity is fuzzy vis-à-vis, say, Thai or Malay food, but therein lies the challenge for Filipino cuisine to evolve more fully by using pan-Asian herbs and spices that are also found in the country.
Read More »
PANSALT® at the AFEX 2009!
PANSALT® will take part in the 18th Asia Food Expo on Sept. 23-26, 2009 at the World Trade Center. Visit the PANSALT® booth and learn more about the healthier, tastier, low-sodium salt!

Healthy Hearts Day
Valentine's Day kicked-off at Harbor Square, CCP Complex in Roxas Boulevard with more than 200 men and women of all ages joining the fitness and wellness activities organized by PANSALT®. Participants grooved with aerobic steps choreographed by fitness instructors from 6am-9am.

PANSALT® Now on Air
Tune in to DZBB to learn more about PANSALT®!
DZBB 594AM
- BANGON NA BAYAN, 4:00-5:00pm with Joel Reyes Zobel
PANSALT celebrates World Heart Day

H

ypertension is a silent killer. It heightens one's risk for cardiovascular disease (CVD) and stroke that could ultimately lead to death. "An estimated 17.5 million people died from CVDs in 2005, representing 30% of all global deaths," says the World Health Organization (WHO). "Of these deaths," WHO continues, "an estimated 7.6 million were due to coronary heart disease and 5.7 million were due to stroke."

Read More »
PANSALT Supports First-ever Palms Iron Chef Competition
ClickTheCity.com
Hot Off the Press
9/10/2008
PANSALT® Flavors Food Launch

T

he good-tasting, low-sodium salt—PANSALT®—made its Philippine debut in a riot of flavor, fun, and information. At a sumptuous Filipino lunch buffet at the Boracay Room of the Hotel Philippine Plaza on October 25, PANSALT® was used to season the food and no one could tell the difference between PANSALT® and ordinary salt. That's because it is salt—only healthier, because PANSALT® contains only 56 – 57 percent sodium chloride.
Read More »
PANSALT® News Releases:
---

Tasty and Healthy:
New Low-Sodium Salt
Now in More Outlets!
---