Healthy Hearts Day
Valentine's Day kicked-off at Harbor Square, CCP Complex in Roxas Boulevard with more than 200 men and women of all ages joining the fitness and wellness activities organized by PANSALT®. Participants grooved with aerobic steps choreographed by fitness instructors from 6am-9am.
PANSALT ® is exclusively distributed in the Philippines by Accord International, Inc. According to Product Manager, Ria Mateo, they entered into an exclusive distributorship agreement with Finland-based Oriola-KD for a breakthrough product for Filipino consumers.
PANSALT ® only has 56% -57% Sodium Chloride compared to common salt which is 98%-100% Sodium Chloride. It has the same good taste and technological properties as common salt and has no bitter aftertaste, characteristic of other low-Sodium salts.
Wellness takes a beating when people overindulge on food that their palates crave for. Salt can be the number one favorite in its various forms: common salt, bagoong, soy sauce, fish sauce and all sorts of "sawsawan" concoctions. According to "Doktor ng Bayan" Rey Salinel, most Filipinos consume up to 10g of salt or Sodium Chloride in its various forms, an excessive amount compared to the recommended daily dose of 1,000-2,500 mg. High-dose intake of common salt leads to higher risks of developing high blood pressure, heart disease, stroke, stomach cancer, osteoporosis, and kidney disease, among others.
Various studies show that the harmful effects of Sodium Chloride can be decreased or even eliminated if our diet is rich in Potassium and Magnesium. Adequate Potassium intake lowers blood pressure and is protective against stroke and cardiac arrhythmias.
At the Hearts day event, Dr. Salinel explained how the heart suffers from excessive Sodium Chloride intake. "The human body needs only very small amounts of both Sodium and Chloride. Common salt is made up of 98-100% Sodium Chloride, which is known to be the most significant cause of high blood pressure, otherwise known as arterial hypertension. Even a slight surge in blood pressure increases the risks of coronary cases and other serious cardiovascular diseases, such as heart attacks, strokes, or heart failure."
Dr. Salinel said that timely change in lifestyle will help save the health of people in pre-hypertensive conditions from escalating into hypertension. Once hypertension is established, a person is supposed to start taking maintenance prescription drugs and the medication is for life. In his talk during Hearts Day, he cited the importance of taking Sodium Chloride, which includes common salt, in moderation. "A good substitute," he said, "is PANSALT ®, a perfect low sodium mineral salt that tastes like common salt and contains Potassium, Magnesium, Lysine and Iodine."
PANSALT ® is made nutritive by the essential minerals Potassium and Magnesium – two important minerals for a healthy heart, not contained in common salt. More than reducing Sodium Chloride intake, it also markedly enhances the positive effect of blood pressure lowering medications.
During the event, Dr. Salinel also offered free medical consultations and health tips to participants. "Diet watch; meaning no excessive intake of common salt and sugar but increased intake of fiber rich foods such as vegetables, fruits, and whole grains, as well as avoidance of bad cholesterol inducing substances," he emphasized.
The second health tip Dr. Salinel cited is exercise – about 20-30 minutes daily or at least 3-4 times a week. However, those with medical conditions should first get clearance from their doctor as to the extent and type of exercise their body can take.
The third is to be drug free and to maintain moderation in everything, including alcohol intake. One to two glasses of red wine or champagne is good for the heart but intoxication damages the liver and destroys general health.
Dr. Salinel's parting words: "Take care of your health and your health will take care of you. If a person is spared from developing hypertension, he is spared from being doomed to a lifetime of having to take medication."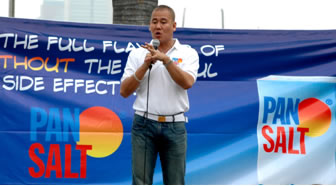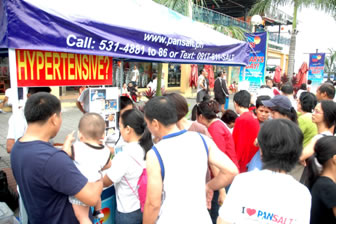 PANSALT ® is available at selected Mercury Drug and Watson's outlets and in the following establishments: Cash & Carry, Cherry Foodarama, Eunilaine Foodmart, Landmark Supermarket, Makati Supermart (Alabang), NCCC Supermarket (Davao), Oro Rama Supermarket (CDO), Palms Country Club (Alabang), Pioneer Centre Supermart, Robinsons Supermarket, Royal Subic Duty Free, Rustan's Supermarket, Shoppersville (Katipunan), Shopwise, Tropical Hut Foodmart, Unimart.
For further information, visit www.pansalt.ph or text 0917-811-SALT.