STAY SEXY WITH PANSALT®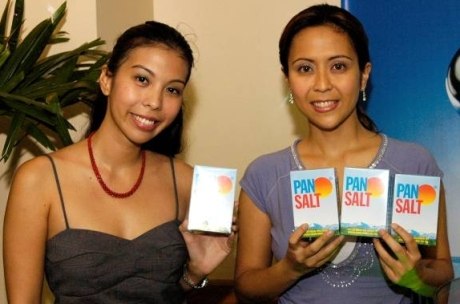 There is no short cut when it comes to health and fitness. While consumers have a vast choice when it comes to weight-loss pills, trendy diets, fat reduction procedures and exercise programs, the tried and tested formula for staying fit still requires a major change in lifestyle. This means having a good diet and proper exercise.
 While most fitness-conscious individuals would happily take on a sport or an exercise program, only a few are open to limiting their food intake to "healthy dishes."
Fitness diets are synonymous to bland and tasteless meals. While packed in nutritional value, the pleasure of eating automatically disappears because of its non-appealing taste.
Most healthy dishes are low in sodium mainly because common salt is known to cause high blood pressure and complications like strokes, heart attack and kidney damage.
It's a good thing home-makers have discovered the wonders of PANSALT®, the good-tasting low-sodium mineral salt with Iodine. Rich in essential minerals like magnesium and potassium, PANSALT® contains only 56-57% sodium. It gives the same savory flavor of common salt without its harmful effects. Ideal for home and industrial use, PANSALT® can be used for all types of food preparations like baked goods, meat, fish, fast food, snacks, dairy products and many more.
The goodness of PANSALT® can also be enjoyed in the healthy dishes served by the Sexy Chef Cafe, the country's leading health food delivery. Known for successfully promoting weight-loss via nutritious and flavorful meals delivered at your doorstep, Sexy Chef is owned and operated by Barni Alejandro, daughter and sister of popular singers Hajji and Rachel Alejandro.
Sexy Chef started in 2004 offering dishes based on the South Beach diet, a program developed by Dr. Agatston of Miami Florida. The program caters to two diet phases, the first one is designed around ample servings of lean protein, beneficial fats and a healthy amount of vegetables, while the second phase reintroduces healthy carbohydrates with whole grains and fruits.
The two week package is inclusive of breakfast, lunch, dinner, two snacks and dessert. "Everybody was predicting that South Beach would be one of those fad diets that would eventually be forgotten. Three years after it was first introduced, it still is popular. Most of our first few clients are now on the maintenance level. This means they have reached their ideal weight and would like to continue with the healthy diet. But we still have a lot of clients who wish to start on the South Beach diet so they can lose weight. "
Aside from the dishes from the South Beach diet, the Sexy Chef also offers fit meals. "These are healthy dishes you can eat anytime. Made of low-sodium, low-fat, lean, and whole grain ingredients, fit meals are tasty, just as they are affordable."
The Sexy Chef also prepares all the meals for Gold's Gym Cafe in Robinson's Galleria and Glorietta, Ayala Center. Diners can enjoy PANSALT® 's low sodium goodness in delectable yet nutritious treats like Chicken Adobo Wrap, Pizzadilla Wrap, Pasta Bolognese, Pesto, Lean Canadian Bacon Lettuce and Tomato Sandwich, Grilled Chicken Pesto Sandwich, Cajun Chicken Sandwich and many more. Not to be missed are their low-fat and sugar-free Food for the Gods and Carrot cake.
For more information on PANSALT® and healthy-food choices, call (632) 531-4881 to 86. For orders and inquiries on the Sexy Chef Cafe, call 911-8888 or 0917-SXYCHEF (0917-7992433).
Related Site:
The Sexy Chef Cafe
www.thesexychefcafe.com